Voodoo economics doesn't work. The experience with tax cuts for top incomes doesn't suggest there is a huge windfall, if any. Moreover, conditions today in the US are even less likely to be conducive for such policies to revive growth. 
US experience
In the US, there are at least four periods where changes in top tax rates have been tried. Cuts have failed to clearly boost the economic growth, raises in top tax rates haven't brought the disasters that the supply-siders predicted. Here is Krugman:
Quote:Since the 1970s there have been four big changes in the effective tax rate on the top 1 percent: the Reagan cut, the Clinton hike, the Bush cut, and the Obama hike. Republicans are fixated on the boom that followed the 1981 tax cut (which had much more to do with monetary policy, but never mind). But they predicted dire effects from the Clinton hike; instead we had a boom that eclipsed Reagan's. They predicted wonderful things from the Bush tax cuts; instead we got an unimpressive expansion followed by a devastating crash. And they predicted terrible things from the tax rise after Obama's reelection; instead we got the best job growth since 1999.
The Reagan boom
A special place in right-wingers hearts is reserved for the Reagan boom, supposedly caused by deep tax cuts at the top which were then invested to accelerate growth. There are a number of objections possible.
Growth in fact didn't accelerate. Here is 

Bruce Bartlet

:
Quote:

Even compared to the 1970s, the era of stagflation, when real GDP grew 37.9%, the 1980s did not show an acceleration as real GDP growth was 36.1% for the decade

.
The tax cuts (and deregulation) are supposedly a boost for business investment, but there wasn't any sustained increase here either (Moneynews):
Quote:

Since 1980, U.S. investment as a percentage of GDP was sliced in half, from nearly 24 percent to 12 percent, leaving the United States 174th in the world. The result was a dearth of real value added products and productivity.
What's more, the strong recovery from the recession in the early 1980s might very well have more to do with the steep fall in interest rates and the Keynesian part of budgetary policy. Let's not forget that the tax cuts at the top were not met with cuts in public expenditures, quite the contrary, military expenditures rose considerably. 
Scientific studies generally don't find much effects



Systematic studies show little support. Not for tax cuts (CBS):

Quote:As Nobel Prize-winning economist Peter Diamond and John Bates Clark medalist Emmanuel Saez have noted, since the 1970s no clear correlation exists between economic growth and top tax-rate cuts across Organization for Economic Cooperation and Development countries.

And neither for the size of the public sector (Bernstein):

Quote:In the century and a half since then, government expenditures as a share of GDP have risen sharply in these countries. Yet they didn't experience a slowdown in their longrun economic growth rates. The fact that economic growth has been so stable over this lengthy period, despite huge increases in the size of government, suggests that government size probably has had little or no impact on growth.
Rise in inequality
Whilst growth hasn't accelerated since the early 1980s, inequality has ratcheted up. According to Bivens, the result has been that this is a zero-sum solution, most of the gains at the top have come from the bottom. He 

calculates that the average annual growth rates of cash, market-based incomes of the bottom 90 percent slowed from 2.1 percent in the 1947-1979 period to 0.2 percent in the 1979-2007 period.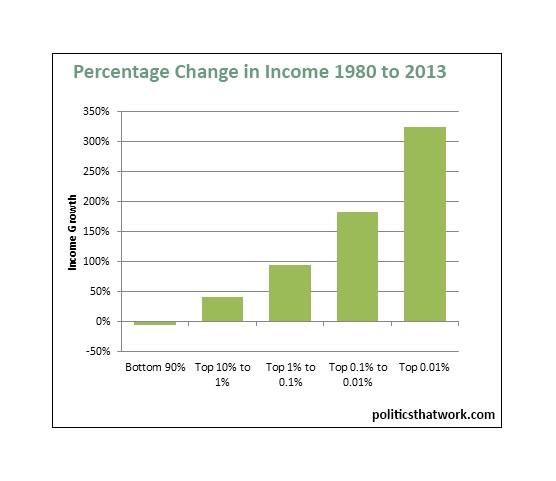 There are some reasons to think that lowering top tax rates has contributed to the rise in inequality. 
Economic research
 has found a strong negative correlation between top tax rates and the top 1% income shares, but an increase in the latter doesn't correlate with higher economic growth. The same research shows a strong negative correlation between CEO pay and top tax rates.
The rise in inequality itself could actually reduce growth, as it potentially decreases growth of demand. This was first masked by the rise in two family incomes, and later by a large rise in credit. But since the financial crisis these factors do not mitigate the demand reducing effect of a shift in income from low to high savers. 
Different this time?
Tax cuts at the top could be expected to have some positive effect when these tax rates are especially onerous. Top income tax rates aren't high in the US, compared to other advanced countries. 
Some argument can be made for the high US corporate tax rate, which is indeed high (35%). But there are so many loopholes that few companies actually pay as much. This is reflected in the steady decline of corporate tax as a share of GDP since the 1950s, and internationally corporate tax/GDP compared to other advanced nations isn't high in the US: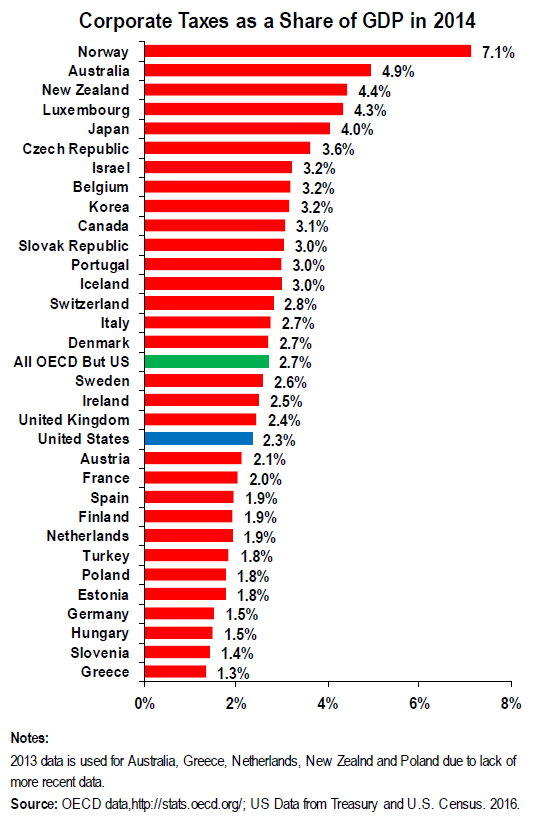 Also, corporations aren't exactly lacking funds. Profits and cash balances are at record highs whilst interest rates are at centuries lows. Yet there isn't an investment boom to speak off, rather, companies pay out over 90% of profits back to shareholders in the form of dividends and share buybacks. 
This strongly suggest the problem lies in corporate governance, rather than tax rates. We have discussed these problems in another thread.